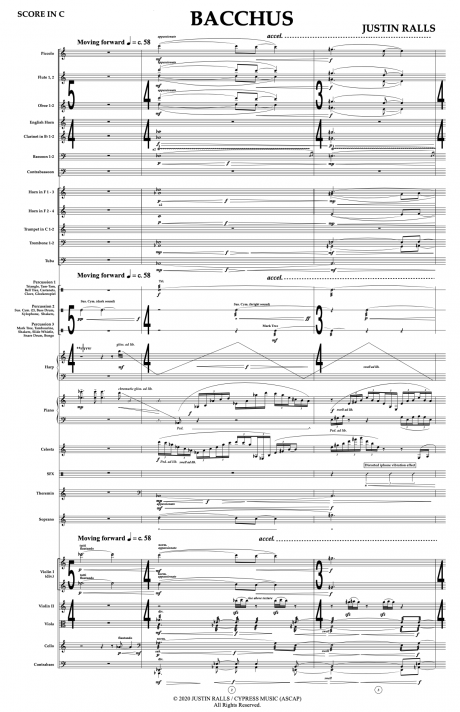 Upon viewing 'Bacchus' I instantly connected to the story of a young woman caught in the conforming routines of everyday modern life, who then finds liberation, vitality and indulgence through the mythical, archetypal dream-character of Bacchus.
The expressionist and surreal style of 'Bacchus' explicitly evokes the jazz-age art of the late 1920s and 1930s, reminiscent of Kandinsky, Picasso, and other modernist artists.  I conceptualized my score as an homage to the jazz-infused orchestral colors of Ravel and Gershwin, the chromaticism of Scriabin, and the brilliant orchestration of Respighi, Korngold, reminiscent of old Hollywood scores. As Bacchus invites the character to indulge her passions, I indulged my own – scoring for full orchestra and an array of novel instruments which make sonic cameos, including a clay-vessel-bird whistle from Peru, an Australian bull roar, a Ghanaian xylophone, and a theremin made from a cigar box and radio shack parts (the theremin was the first electronic instrument introduced in the 1920s).
The protagonist is musically embodied by soprano vocalise (beautifully realized by my friend and talented soprano Megan Uhrinak). I felt this an appropriate moment for an expressionist 'poème de l'extase' in the final climatic sequence of the film (and what else but grand opera achieves such ecstatic indulgence of the composer?). Overall, I dedicate this score as an homage to the great composers whose work the piece inspired and from whom I have learned much.