Olmsted 200: Theme and Variations is a new work for Flute, Clarinet, Violin, Cello and Vibraphone to commemorate the 200th anniversary of the birth of Frederick Law Olmsted Sr. will be premiered on March 26, 2022 by Juventas New Music Ensemble at Boston's Multicultural Arts Center with future performances planned by American Wild Ensemble and Michigan Technical University.
Olmsted 200: Theme and Variations was composed to commemorate the 200th anniversary of the birth of Frederick Law Olmsted Sr. and founder of the field of landscape architecture. The legacy of his work and that of his firm lies in the numerous parks, defining America's planned landscapes, believing that a democratic society needed natural and public spaces that would replace "debasing pursuits and brutalized pleasure." Olmsted believed aesthetically designed natural and public spaces would have a moral influence on human behavior, promoting "communitevness," a healthy participation in civic life, and the common good.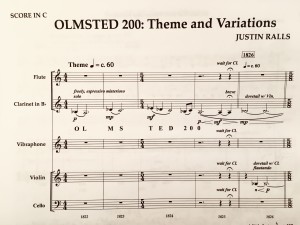 Olmsted 200: Theme and Variations specifically commemorates the first Olmsted park in Seattle, Lincoln Park (later renamed Cal Anderson Park). Designed by the Olmsted firm (led by his son John C. Olmsted) between 1901 and 1904, Cal Anderson Park is a palimpsest, or a theme and variations; each generation and historical moment reevaluating the purpose and ideal of a city park and public space. Olmsted was meticulous with design and was an artist as much as an architect. He designed parks as a "work of art…framed upon a single, noble motive" also stating, "Landscapes move us in a manner more nearly analogous to action of music than to anything else…." I began to conceive the piece as a highly structured, yet ever evolving musical landscape with distinct themes, motives, and a block-like structure including metric variation and meter itself as a motive device. Olmsted was a social reformer, working for The Nation magazine before the American Civil War, exposing the horrors of slavery and advocating for abolition. His parks were a conscious effort to oppose both slavery and aristocracy. During the Civil War he served as a Sanitation Secretary. Olmsted came of age and matured in his thinking following the Civil War and his life parallels the progressive and historic Age of Lincoln in both its idealism and contradictions. Olmsted was visionary in his insistence on public health, equality, the power of nature, and democratic values imbued in public spaces.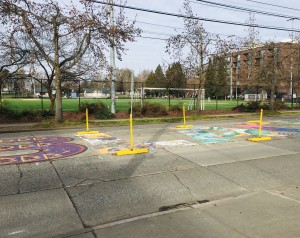 During the historic protests over the murder of George Floyd, subsequent Black Lives Matter protests in June 2020 found their Seattle epicenter at Cal Anderson Park. Olmsted's vision of a democratic space for public health, beauty and recreation was put to its ultimate test as militarized police clashed with protestors night after night. Chants of "Black lives matter" mixed in a cacophony of frequent flash bang grenades and tear gas and even gunfire. Yet, among the milieu, mutual aid tents sprung up in the park, a community garden, labor organizing, and gathering of Indigenous speakers, musicians, and activists. New conversations arose to re-define the vision and purpose of the park.  The park has gone through many changes yet remains as an important, if not contested, public space—its ultimate future uncertain.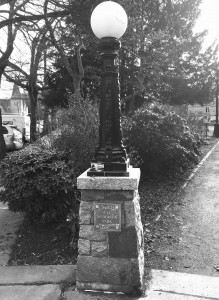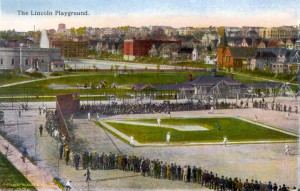 The piece is measured in years beginning with the year of Olmsted's birth, 1822. The theme passes through time, variations and history, marking moments both for Olmsted and CalAnderson Park. Quotes of tunes, such as the Battle Hymn of the Republic,  heard in the park during the revivalist meetings in the early  20th Century appear in counterpoint with a Black Lives Matter chant. The theme, signifying Olmsted's motive/ideal, is contrasted with busy arpeggios which speed through the years eventually opening up into a formless future: a democratic musical space where the ensemble is free to create their own variations and ending, symbolic of how Olmsted's structures and ideals are bound to vary, layer, and build upon another in a perpetual theme and variation.